McCulloch's Clownfish (Amphiprion mccullochi)
From The Aquarium Wiki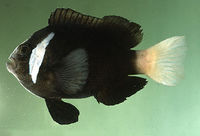 This animal is available captive bred
Additional names
McCulloch's Clownfish, Whitesnout Anemonefish
Origin
Lord Howe island, one of the Great Barrier Reef's southernmost islands.
Sexing
Males are smaller than females.
Tank compatibility
Peaceful
Diet
Carnivore
Feeding regime
Feed once or twice a day.
Environment Specifics
Does best in a rocky reef setting. Associated with the anemone Entacmaea quadricolor.
Behaviour
This section requires expansion with:
Any behaviour quirks such as gulping air, or aggressiveness..
Identification
An oval fish with a white caudal fin, black body and a white vertical band over the gill plate.
Pictures
External links