Chessboard Cichlid (Dicrossus filamentosus)
From The Aquarium Wiki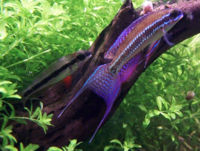 Additional names
Checkerboard Cichlid, Chessboard Cichlid, Lyretailed Checkerboard Cichlid
Additional scientific names
Crenicara filamentosa, Dicrossus filamentosa
Origin
South America in the Rio Icana. A black-water river, near the Rio Negro.
Sexing
Mature males will have more colour and longer tips on the fins.
Tank compatibility
Since this fish is a Dwarf Cichlid, typically it benefits from having smaller companions. Tank mates such as Cardinal Tetras, Lemon Tetras, Glowlight Tetras etc. Bottom dwellers such as Corydoras are also good. Avoid fin-nippers such as Tiger Barbs and Serpae Tetras. Very active fish like some Loaches may bother this fish.
Diet
Prefers a meaty diet of bloodworm and Cichlid pellets.
Feeding regime
Feed bloodworm twice a week and feed flake and pellets sparingly on other days. Feed little but often.
Environment specifics
Provide this fish with a spacious tank and plenty of hiding places, due to its origins, it prefers softer water and a lower pH.
Behaviour
Not overly aggressive, but Cichlids will be Cichlids so some individuals may display more aggressive behaviour than others, especially males towards other males of the same species.
Identification
White base colour with a checkered pattern on the body, in between blue bars and shading. Long flowing rays on the tips of the tail.
Pictures
External links