Letourneuxi's Jewel Cichlid (Hemichromis letourneauxi)
From The Aquarium Wiki
Letourneuxi's Jewel Cichlid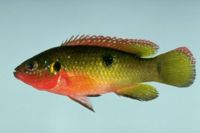 Additional names
Letourneuxi's Jewel Cichlid, Jewel Fish, Nile Jewel Cichlid, African Jewelfish
Additional scientific names
Hemichromis rolandi, Hemichromis saharae, Hemichromis bimaculatus saharae, Hemichromis letourneauxi
Origin
Africa: Nile to Senegal from North Africa to côte d'Ivoire. Also introduced from Everglades to Big cypress national park in Florida.
Sexing
Males are brighter than females in breeding season.
Tank compatibility
A moderatly aggressive fish.
Diet
Should accept most foods including pellet and flake, as well as live/frozen foods such as bloodworm.
Feeding regime
Feed once or twice a day.
Environment specifics
Does best in a mature planted tank with plenty of hiding places.
Behaviour
Is territorial and may pick on tank mates.
Identification
H. letourneauxi should not be confused with Hemichromis lifalili as they are very similar but H. lifalili tends to be more red in colour.
Pictures
External links