White Lip Triggerfish (Sufflamen chrysopterum)
From The Aquarium Wiki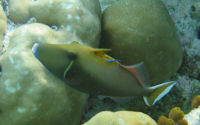 Additional names
White Lip Triggerfish, Halfmoon Triggerfish, Whitetail Triggerfish
Tank compatibility
An aggressive fish, must only be kept with aggressive or semi-aggressive fish the same size or larger.
Diet
This fish is a carnivore and will eat a variety of meaty foods such as fish, scallops and shrimp.
Feeding regime
Feed twice a day. Can be taught to hand feed, but be careful, this fish will bite!
Environment specifics
Requires a large and spacious tank. Not really reef safe, will rearrange it's tank.
Pictures
External links