Elliot's Cichlid (Thorichthys ellioti)
From The Aquarium Wiki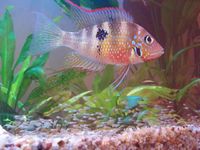 This animal is available captive bred
Additional names
Elliot's Cichlid
Additional scientific names
Thorichthys maculipinnis, Heros maculipinnis, Cichlasoma ellioti
Found in Central America including Mexico.
Males are more colourful
Peaceful
Carnivore
Daily
Planted tank; the darker the gravel, the brighter the colours - this serves as way to camouflage in the wild.
May require dither fish if too timid.
Can be confused with Thorichthys meeki. Thorichthys ellioti is more colourful.