Category:Discus
From The Aquarium Wiki
Discus have quickly become a dominant aquarium species becasue of their vibrant colors.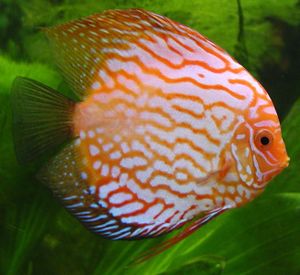 There are many groups that cater specifically for Aquarists who choose to keep this challenging yet beautiful fish.
There are many strains of Discus available in the world today. Common varieties include Blue Turquoises and Blue Diamonds, and many strains of discus are derived from a mutant fish, the Pigeon Blood. Pigeon Bloods do not have black stripes down their sides for camouflage, but can "pepper" instead.
Discus require high water quality and excellent conditions to thrive in an aquarium, meaning frequent water changes and constant testing. Discus are originally from the Amazon and prefer a pH less than 7.0, and a water hardness below 12dgH. In aquariums, Discus do not tolerate high nitrates or the presence of Nitrites or Ammonia well at all.
---
Related Forums: Discus Forums(Australian Based) Simply Discus
Pages in category "Discus"
This category contains only the following page.