Blue-Eye Cichlid (Cryptoheros spilurus)
From The Aquarium Wiki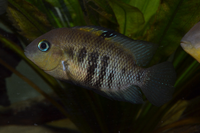 Additional names
Blue-Eye Cichlid, Blue Eyed Cichlid, Jade Eyed Cichlid
Additional scientific names
Cichlasoma spilurum, Heros spilurus, Archocentrus spilurum, Archocentrus spilurus
Central America: Atlantic slope from Belize to Nicaragua.
Males are more colourful, longer fins, and larger.
Compatible only with robust similar-sized fish as this fish can be territorial and a bully.
Frozen and live foods are best, will take flake, pellets as well.
Feed once or twice a day.
A spacious tank with good filtration.
A moderately aggressive Cichlid that forms a very strong pair bond.
Bright Blue eye, lacks the horizontal line of the Archocentrus sajica, all lines vertical, purple to blue background. Can sometimes be mistaken for Sajica cichlid.