Midas Blenny (Ecsenius midas)
From The Aquarium Wiki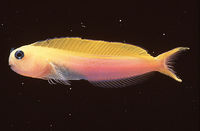 Additional names
Midas Blenny, Persian Blenny
Origin
This section requires expansion with:
Location where this animal is found in the wild.
Sexing
This section requires expansion with:
Methods for differentiating male and females.
Tank compatibility
The Midas Blenny is a reef safe companion that gets along well with many other fish. Some more aggressive fish may pick on it and therefore putting a Midas Blenny in with them can spell trouble.
Diet
The Midas Blenny is an opportunistic omnivore. It will pick some forms of algae off the rocks and glass but does best when fed some frozen, flake, or pellet food.
Feeding regime
Once a day is plenty, if your fish is stressed soaking the food in a garlic supplement such as Garlic Guard or Kent Extreme Garlic will help him eat and provide him with parasite fighting nutrients.
Environment Specifics
Like most Blennys, the Midas likes to "park" itself on rockwork and corals as well as dig caves under rockwork. Space for it to do that will help them stay healthy. They are also active swimmers so give them space to swim.
Behaviour
Plenty of character, they love attention, and once they realize who feeds them it will always be at the glass when you get near.
Identification
Long yellow serpent like body and an almost lyre tail. When stressed the Midas Blenny will form dark grey or purple lines on it's face.
Pictures
[
edit
]
External links
[
edit
]