Garibaldi (Hypsypops rubicundus)
From The Aquarium Wiki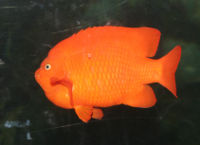 Additional names
Garibaldi, Garibaldi Damselfish
Additional scientific names
Glyphisodon rubicundus, Hypsypops rubicunda
Cool waters of California, and Mexico.
Males are larger, with a hump on the head.
Can eat small fish
Accommodate a vegetable, and meat diet.
Daily
Reef tank
Territorial.
A large and striking fish, the most clear feature being it's colour. The Garibaldi is vivid tangerine orange all over. It's quite a chunky fish in appearance and square in shape.