Black Darter Tetra (Poecilocharax weitzmani)
From The Aquarium Wiki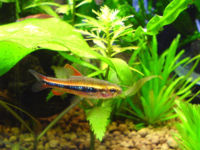 Additional names
Black Darter Tetra, Black Morpho Tetra
Additional scientific names
Poeciliocharax weitzmani
Found in blackwater freshwater rivers in South America including upper Solimões, upper Negro, and upper Orinoco River basins.[1][2]
Females are plumper and rounder in the belly than males.
A peaceful shoaling fish, keep in groups of 6 or more. Due to its tiny size, only keep with peaceful non-predatory tank mates.
Primarily carnivorous, will take pellets, flake and live/frozen food such as brine shrimp and daphnia.
Feed once or twice a day.
Must be kept in acidic conditions and thrives in a blackwater environment. Does well in a heavily planted tank.
A peaceful shoaling fish.
Small elongated and slender body with a bold lateral black line running from the gills to the caudal fin. The rest of the body is pale yellow-brown and slightly iridescent.