Water Wisteria (Hygrophila difformis)
From The Aquarium Wiki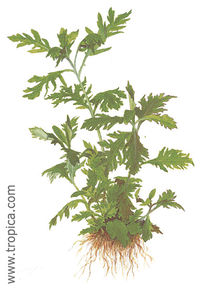 Alternative Names
Water Wisteria
Synonyms
Ruellia triflora, Ruellia difformis
Origin
India, Thailand, Malaysia.
Environment Specifics
A fast growing plant, perfect for beginners with basic tank lighting. If the light is not enough, spacing between the leaves increases and it can look messy.
Identification
Fern-like leaves are larger (10cm (3.9") long) at higher temperatures. Leaves are delicate and easily broken. Though small fragments will readily grow roots.
Pictures
External links