Red Phantom Tetra (Hyphessobrycon sweglesi)
From The Aquarium Wiki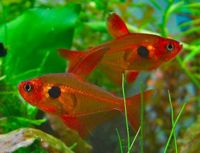 Additional names
Red Phantom Tetra
Additional scientific names
Megalamphodus sweglesi, Magalamphodus sweglesi
South America: Orinoco River basin.
Males are more brightly coloured with slightly more elongated and elaborate fins.
A peaceful fish, keep in groups of 6 or more. Do not keep with long-finned fish as these fish may nip.
Omnivorous, will take pellets and flake as well as live and frozen food.
Feed once or twice a day.
This fish prefers a spacious tank with open swimming place and room to shoal. Some hiding places in plants would be appreciated.
A peaceful shoaling fish.
A pretty fish that looks similar in colour and shape to the Serpae Tetra but the body is slightly more elongated and the black mark on their flanks is more rounded.