Spotted Doras (Agamyxis pectinifrons)
From The Aquarium Wiki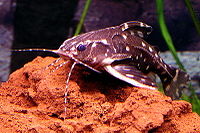 Additional names
Spotted Doras, Whitebarred Catfish, Spotted Raphael Catfish, Spotted Talking Catfish
Additional scientific names
Doras flavopictus, Doras pectinifrons
Sexing
It is not possible to visually sex this fish and there have been no records of it being bred in captivity.
Tank compatibility
This fish is generally peaceful towards similar sized or larger fish but can pose a threat to smaller fish.
Diet
Will accept most foods including sinking pellets and wafers as well as live/frozen foods such as bloodworm and brine shrimp.
Feeding regime
Feed once or twice a day.
Environment specifics
Prefers a spacious tank with hiding places available.
Behaviour
This fish is generally nocturnal, young fish may venture out during the day for food but will otherwise remain hidden until after dark.
Identification
Typical Thorny Catfish shape, dark base colour covered with attractive small light-coloured spots. These spots range from bright white to pale yellow.
Pictures
External links