Main Page Mobile
From The Aquarium Wiki
Welcome to The Aquarium Wiki
The free encyclopedia of all things aquatic.
Currently Serving
2,641
articles with 94,170 edits.
Search:
<inputbox>

type=search2 buttonlabel=Go width=30 break=no id=MP </inputbox>
Browse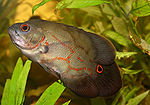 Oscar
Oscars (or Astronotus ocellatus) are large, territorial and commonly sold South American Cichlids. They are well loved due to their curious nature and acknowledgement of their owners, recognising the human that feeds them. Due to their popular nature they are often housed and fed incorrectly, have a read of this article if you're thinking of getting yourself an Oscar.


For more details please click on the Title name.