Main Page Mobile
From The Aquarium Wiki
Welcome to The Aquarium Wiki
The free encyclopedia of all things aquatic.
Currently Serving
2,669
articles with 95,088 edits.
Search:
<inputbox>

type=search2 buttonlabel=Go width=30 break=no id=MP </inputbox>
Browse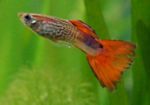 Guppy
The infamous Guppy, or Poecilia reticulata. Often sold as the beginners fish, it's known for its ability to multiply in number at a rapid rate. Suitable for tanks 38 Litres (10 US G.) or more, males usually stay under 5.1cm (2") in length, while females can be anything from 5.1cm (2") to 8.9cm (3.5"). As these fish are livebearers, it's best to keep them in the ratio of 1 male per 2-3 females to avoid the males harassing females to the point of exhaustion.


For more details please click on the Title name.