Saddleback Clownfish (Amphiprion polymnus)
From The Aquarium Wiki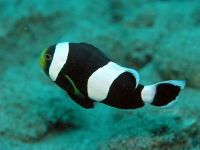 This animal is available captive bred
Additional names
Twobanded Anemonefish, Saddleback Clownfish, Brown Saddle Clownfish, Saddleback Anemonefish, Panda Clownfish, White-Tipped Anemonefish, Yellow-Finned Anemonefish
Additional scientific names
Amphiprion bifasciatus, Amphiprion bifasciatus annamensis, Amphiprion intermedius, Amphiprion laticlavius, Amphiprion polynemus, Amphiprion trifasciatus, Amphiprion polymus
Pacific ocean
Hard to do, as males are the same size as females
Peaceful
Will take most kinds of marine food including live foods such as krill and flake.
Daily
A spacious tank with hiding places is required. Known to host Stichodactyla haddoni or Heteractis crispa anemones.
Mixes well with nonagressive species
Typical oval Clownfish shape. The Saddleback Clownfish has an orange-brown body with a vertical white band behind its head, and a large white patch on its dorsal area which resembles a "saddle". The colouration can vary from orange to black. The pattern of white bars can also vary. A captive-bred variant was developed that lacked the distinctive "saddle" patch is called the "black saddleback clownfish".