Queen Angelfish (Holacanthus ciliaris)
From The Aquarium Wiki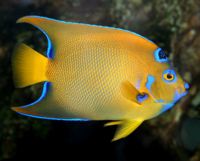 This animal is available captive bred
Origin
This section requires expansion with:
Location where this animal is found in the wild.
Sexing
Difficult to tell as juveniles. Male adults are somewhat larger then females.
Tank compatibility
This section requires expansion with:
Other animals this species can be housed with, or animals they should not be housed with.
Diet
It will take most foods including pellets, live and frozen foods.
Feeding regime
Feed once or twice a day.
Environment Specifics
This section requires expansion with:
Anything the species requires to be comfortable in the tank, such as caves or grasses.
Behaviour
Compatible with most peaceful fish of equal size as a juvenile. As it grows, it will become more aggressive and territorial.
Identification
Can be confused with and hybridise with the Blue Angelfish, however the body is more yellow, with blue borders, has finer but brighter markings.
Pictures
[
edit
]
External links
[
edit
]