Brown Julie (Julidochromis dickfeldi)
From The Aquarium Wiki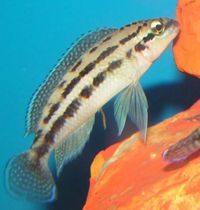 Additional names
Dickfeld's Juli, Dickfeldi, Blue Julie, Brown Julie
Origin
Rocky areas on the Zambian shore of Lake Tanganyika, Africa.
Sexing
Mature females are larger.
Tank compatibility
Only compatible with other Lake Tanganyika African Cichlids. Keep these fish as a pair, can be aggressive towards other of their own species and fight to the death.
Diet
Prefers live foods including brine shrimp and bloodworm. Will also accept Cichlid pellets.
Feeding regime
Twice a day.
Environment specifics
Keep in a tank with plenty of caves and sandy substrate.
Pictures
External links