Main Page
From The Aquarium Wiki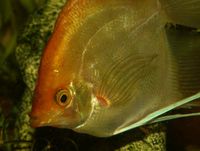 Freshwater Angel Fish
The Freshwater Angel Fish is a member of the Cichlid group which is growing in popularity in the aquarium hobby. The Freshwater Angel Fish is a very common fish in pet stores which is typically sold to beginner fish keepers. They are sold at the size of an inch and can grow to 30.5cm (12") tall and 15.2-20.3cm (6-8") long. Because of this potential size potential, a 114-132 Litres (30-35 US G.) tank at least 45.7cm (18") deep or larger is recommended for a single fish.


For more details please click on the Title name.
Editing The Aquarium Wiki
Writing Articles
About the Project
Community
Articles

Articles needing work