Golden Julie (Julidochromis ornatus)
From The Aquarium Wiki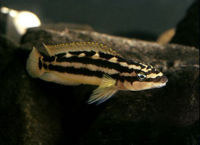 Additional names
Golden Julie, Yellow Julie
Males are more slender and smaller when mature.
This fish is territorial and intolerant of its own species. Monogamous pairs can bond. Keep with other Lake Tanganyika cichlids.
Will accept most foods including pellet and flake as well as live/frozen such as bloodworm, brine shrimp and artemia.
Feed once or twice a day.
Needs a spacious tank with plenty of hiding places and a sandy substrate. Caves are essential for this fish.
A territorial fish towards others of its own kind.
A slender and elongated Cichlid with a pale yellow to rich gold base colour and three bold brown-black longitudinal lines.