Main Page Mobile
From The Aquarium Wiki
Welcome to The Aquarium Wiki
The free encyclopedia of all things aquatic.
Currently Serving
2,688
articles with 96,015 edits.
Search:
<inputbox>

type=search2 buttonlabel=Go width=30 break=no id=MP </inputbox>
Browse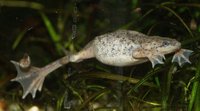 Dwarf African Frog
This small bottom dwelling frog typically stays smaller then 6.4cm (2.5") and can be kept in an aquarium of minimum 19 Litres (5 US G.) plus. Because of its active lifestyle and its availability in local pet stores it has been a common addition to many aquariums. Be careful not to mistake it for the African Clawed Frog!


For more details please click on the Title name.