Dwarf Pencilfish (Nannostomus marginatus)
From The Aquarium Wiki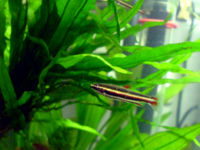 Additional names
Dwarf Pencilfish
Additional scientific names
Nannostomus marginatus picturatus
Adult males are slimmer and may show more red in their fins than the females. These fish are difficult to breed in captivity.
Omnivores, will take most small foods including crushed flakes or pellets, and small live foods such as daphnia and brine shrimp.
Feed once or twice a day.
Prefers a well planted mature tank with good filtration, but not a strong current. They do not appreciate very bright lighting so floating plants are desirable.
Doesn't need to be shoals, but prefers company of 3 or more. A peaceful mid-swimming fish.
This fish has two bold horizontal black lines with two white lines accompanying. Red and some yellow on the fins with hints through the body.