Saddled Bichir (Polypterus endlicheri)
From The Aquarium Wiki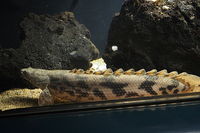 Additional names
Saddled Bichir, Endlicheri Bichir
Additional scientific names
Polypterus endlicheri endlicheri
Sexing
As with all Bichirs, the anal fin is large cup-like/hand-like in males. Females have a thin anal fin
Tank compatibility
A bottom dwelling species that is not particularly aggressive but will prey on smaller tank mates.
Diet
Do not keep on a staple diet of dry foods - include plenty of meaty foods such as fish and other meats (beef heart, chicken livers), as well as invertebrates.
Feeding regime
A good feeding every two or three days.
Environment specifics
Provide cover in the form of plants and rocks.
Behaviour
A predator; not anti-social but does not like being cramped.
Identification
May be confused with the Armoured Bichir, Polypterus delhezi, but usually has more irregular markings. Overall grey with dark markings banding over the back and along the sides; has a flat head.
Pictures
Videos
External links