Modest Loach (Yasuhikotakia modesta)
From The Aquarium Wiki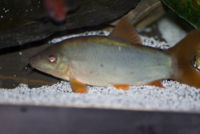 Additional names
Orange Finned Loach, Blue Loach, Redtail Botia, Modest Loach, Blue Botia
Additional scientific names
Botia modesta, Botia rubrippinis
Sexing
Females generally plumper all over than males.
Tank compatibility
Should only be kept with similar sized robust fish. Should be kept in groups of 4 or more. If kept with smaller fish, there's a chance they will be eaten.
Diet
Is effective in keeping snail populations under control. Will eat a variety of foods including pellet and flake as well as live/frozen food such as bloodworm.
Feeding regime
Feed once or twice a day.
Environment specifics
Will dig in the substrate, so small gravel or sand is best, not suitable for planted tanks. Will need hiding places.
Behaviour
A highly territorial fish within its own group and will set up a hierarchy. Though it can be peaceful, just avoid smaller fish.
Identification
A heavy-set Loach with a similar body shape to the Clown Loach. The body is pale blue in colour and all fins are orange-red, although yellow-finned variations have been seen which can be mistaken for Yasuhikotakia lecontei.
Pictures
External links