Golden Pencilfish (Nannostomus beckfordi)
From The Aquarium Wiki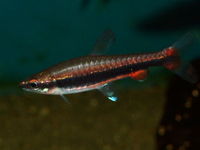 Additional names
Golden Pencilfish
Additional scientific names
Nannostomus anomalus, Nannostomus aripiragensis, Nannostomus aripirangensis, Nannostomus beckfordi surinami, Nannostomus simplex
The males are longer than females and the males have more red in their fins. The female has a golden stripe along their flanks.
Tank compatibility
[
edit
]
A very peaceful fish that should not be kept with boisterous or predatory fish. Keep with equally peaceful similar sized South American fish such as Corydoras and Neon Tetras.
This Pencilfish accepts most foods which should be small for this fish's equally small mouth. Small pellet foods should be accepted along with daphnia and brine shrimp.
Feeding regime
[
edit
]
Feed once or twice a day. This fish will not compete for food so feed in a community tank carefully.
Pictures
[
edit
]
External links
[
edit
]