Firefish Goby (Nemateleotris magnifica)
From The Aquarium Wiki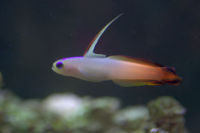 Additional names
Firefish Goby, Orange Firefish, Common Firefish, Dartfish, Red Fire Goby
No known difference between sexes.
This fish can be quite timid so keep with peaceful tank mates. Likes to be kept in mated pairs, but unmated pairs may be territorial towards one another.
A carnivorous fish that prefers brine shrimp, mysis shrimp, will also accept some marine pellets or flakes. Their diet should be kept varied.
Feed once or twice a day.
This fish must have plenty of secure hiding places in live rock. It requires an SG of 1.021 - 1.022. It is essential to make sure there is a secure lid as this fish can jump.
Will never venture far from the rock work, will move in short bursts and flick it's dorsal fin up and down.
This fish has an elongated pale body with a rounded head. It is pale from the front to mid-section where it then goes into bright orange and red. It has a long spiked dorsal fin and a small upturned mouth.