TetraPrima
From The Aquarium Wiki
About TetraPrima
[
edit
]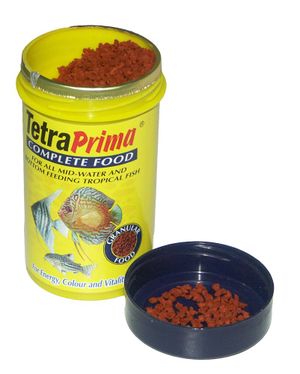 TetraPrima is a commerical food by Tetra for mid-water and bottom feeding tropical fish and aquatic frogs such as Dwarf African Frogs. It comes in a variety of plastic tubs with a foil seal. This food is a small (1-3mm), granular type red coloured food which quickly sinks and is taken by most bottom feeders.
The food is taken by mollies, bottom feeders like corys, aquatic dwarf frogs, small loaches and even small tetras like Glowlights will take to it.
Manufacturer
[
edit
]
Tetra GmbH
Food Type
[
edit
]
Fast Sinking.
It stays together on the substrate and does not fall apart for a long time.
Date stamp
[
edit
]
The container should have a clear date stamp somewhere and you need to check this. Fish food doesn't last forever, even if unopened, and you will want food that has at least 6 months of life still in it.
Quality
[
edit
]
All proper, high quality food should come in a sealed container of some kind as exposure to the air starts the decay process of any vitamins and protein. Never buy any that has the seal broken as they could be infected with bacteria.
Ingredients
[
edit
]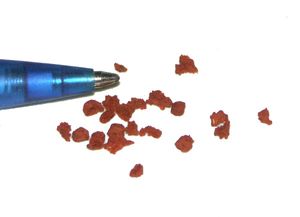 A typical commerical product will list all its ingredients, the order these are shown indicate the largest amount of that food.
Fish and fish derivatives - The main food
Vegetable protein - Adds extra protein.
Cereals - Often used to bulk out the food and to hold it together.
Molluscs and crustaceans
Yeasts
Minerals
Oils and fats - This provides smell and holds it together.
L-lysine monochlorhydrate - amino acid & protein booster. See Lysine
Lecithin - Food binder
Citric acid
Colourants and preservatives
Various added vitamins - Vitamin A, D3,E, L-ascorbyl-2-polyphosphate
Analysis
[
edit
]
(from 30g tub)
Protein 47.5%
Oil 6.5%
Fibre 2%
Ash 10.5%
Moisture 6%
Vitamins and amount per Kg
[
edit
]
A 29 770 IU
D3 1 860 IU
E 200 mg
L-ascorbyl-2-polyphosphae 137 mg

Female DAF eating TetraPrima