White Lip Triggerfish (Sufflamen chrysopterum)
From The Aquarium Wiki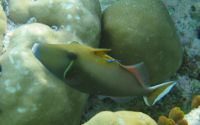 Additional names
White Lip Triggerfish, Halfmoon Triggerfish, Whitetail Triggerfish
An aggressive fish, must only be kept with aggressive or semi-aggressive fish the same size or larger.
This fish is a carnivore and will eat a variety of meaty foods such as fish, scallops and shrimp.
Feed twice a day. Can be taught to hand feed, but be careful, this fish will bite!
Requires a large and spacious tank. Not really reef safe, will rearrange it's tank.