Saddle Butterflyfish (Chaetodon ephippium)
From The Aquarium Wiki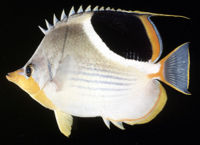 Additional names
Saddle Butterflyfish, Saddleback Butterflyfish, Blackblotch Butterflyfish, Black-Blotched Butterflyfish, Saddled Coralfish
Additional scientific names
Chaetodon garnoti, Chaetodon mulsanti, Chaetodon principalis
Tank compatibility
Best kept one to a tank and without any other similar Butterflyfish. Not reef-safe, will eat some invertebrates, soft corals and some stony corals.
Diet
Carnivorous, will eat most meaty foods.
Environment specifics
Can be kept in a reef environment and prefers a spacious mature tank with hiding places, but will nibble at and eat most soft and stony corals and invertebrates.
Pictures
External links