False Eight-Banded Barb (Eirmotus octozona)
From The Aquarium Wiki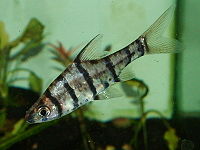 This animal is available captive bred
Additional names
False Eight-Banded Barb, Octozona Barb
Additional scientific names
Eirmotus octazona
A shy shoaling fish which must be kept in groups of six or more. Do not keep with aggressive fish or fish which may out-compete them to food.
Feed once or twice a day. Timid and slow to feed. Make sure they get enough by targeting individually.
Does best in a mature densely planted environment with good filtration.
Can take many weeks to settle in to a new tank environment. Very shy, can starve if not given careful attention with food.