Bicolour Pseudochromis (Pseudochromis paccagnella)
From The Aquarium Wiki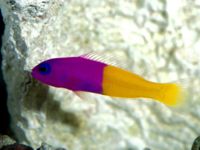 Pseudochromis paccagnella
Additional names
Bicolour Pseudochromis, Bicolour Dottyback, Royal Dottyback, False Gramma
Additional scientific names
Pictichromis paccagnellae
Sexing
Females are slightly more slender than males. Not much is known about their reproduction.
Tank compatibility
Behaviour
An aggressive and territorial fish despite it's small size.
Identification
Not to be confused with the more peaceful Royal Gramma, similar in colour pattern, however this fish has a straight line dividing the two colours, where as the Basslet fades into one another.
Pictures
External links