Snakehead Betta (Betta channoides)
From The Aquarium Wiki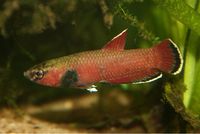 This animal is available captive bred
Additional names
Snakehead Betta, Cherry Betta
Mahakam River basin in Kalimantan Timur, Borneo, Indonesia.
Males are more vibrant than females. These fish are paternal mouthbrooders.
Tank compatibility
[
edit
]
A generally peaceful Betta which can be housed in pairs or groups. A pair needs at least 38 Litres (10 US G.), groups need over 76 Litres (20 US G.). Can be kept with peaceful tank mates but best in species tanks.
Feeding regime
[
edit
]
Feed once or twice a day.
Environment specifics
[
edit
]
These Bettas are quite tolerant of water chemistry but prefer soft acidic conditions. Best kept in planted tanks with plenty of hiding places and no bright lighting.
Behaviour
[
edit
]
A generally peaceful Betta.
Identification
[
edit
]
An elongated slender Betta. Males are more brightly coloured with a red-brown body, darker brown fins and the anal, caudal and ventral fins are tipped with white. Females are far more washed out and muted than the males.
Pictures
[
edit
]
External links
[
edit
]