Dwarf Zebra Hermit Crab (Calcinus laevimanus)
From The Aquarium Wiki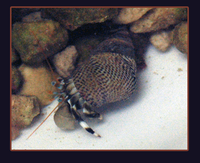 Dwarf Zebra Hermit Crab, Hawaiian Reef Hermit Crab, Left-Handed Hermit Crab
Requires close examination
Will not bother fish tankmates, but may prey on snails for their shells.
Will eat many kinds of algae, including red slime algae. If there's not enough algae present, supplement with dried seaweed.
Daily.
Reef tank.
Peaceful.
A small hermit. The lower half of its eye stalk is blue, and the upper half, orange. The legs are striking with black and white banding.