Blue Chromis Damsel (Chromis cyaneus)
From The Aquarium Wiki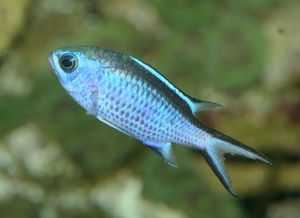 Additional names
Blue Chromis Damsel, Blue Reef Chromis Damsel, Blue Chromis
Additional scientific names
Chromis cyanea, Furcaria cyanea, Heliastes cyaneus
Western Atlantic: Bermuda, southern Florida (USA), and the Caribbean Sea. Including the Bahamas, Gulf of Mexico and Antilles
Tank compatibility
[
edit
]
In a large aquarium best kept in groups of 5 or more, they will shoal and school.
Omnivorous. Will feed best on flake, pellet, frozen foods. Seaweed should be offered once in a while but it's not an active algae feeder.
Feeding regime
[
edit
]
Daily
Environment specifics
[
edit
]
Reef tank
Behaviour
[
edit
]
Mixes well with peaceful tank mates
Identification
[
edit
]
This fish has a vivid blue metallic body with a bold black stripe running across the top of the spine to the tip of the caudal. A second black line mirrors the first on the caudal.
Pictures
[
edit
]
External links
[
edit
]