Blue-Legged Hermit Crab (Clibanarius tricolor)
From The Aquarium Wiki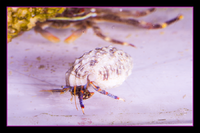 This animal is available captive bred
Additional names
Additional scientific names
Calcinus tricolor
Alternative names
[
edit
]
Blue-Legged Hermit Crab, Blue Leg Hermit Crab
Endemic to the west Atlantic, especially the Caribbean Sea.
Requires close examination.
Tank compatibility
[
edit
]
Mixes well with most tank mates. Be wary keeping with snails.
Omnivorous, will eat fish food leftovers, fish wastes, and will sift the substrate for foodstuff. Feed them algae if food is scarce for them to find.
Environment Specifics
[
edit
]
Reef tanks will suffice.
Behaviour
[
edit
]
Peaceful.
Identification
[
edit
]
It is blue, and unlike other hermit crabs, both arms are equal sized.
Pictures
[
edit
]
External links
[
edit
]