King Angelfish (Holacanthus passer)
From The Aquarium Wiki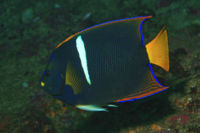 Additional names
King Angelfish, Passer Angelfish
Eastern Pacific: Gulf of California to Peru, including the Galapagos Islands.
Can be aggressive, keep the robust semi-aggressive tank mates such as Damsels and Surgeonfish. Will nip at soft and stony corals, clams and invertebrates, not ideal for a reef set up.
Requires a varied diet including veggie and meaty offerings, including spirulina and specialised Angelfish blended food available in marine aquatic stores and online.
Feed at least two to three times a day.