Wedge-tailed Triggerfish (Rhinecanthus rectangulus)
From The Aquarium Wiki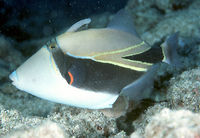 Additional names
Rectangular Triggerfish, Wedge-tailed Triggerfish, V-tailed Triggerfish, Humuhumunukunukuāpua'a
Additional scientific names
Balistes rectangulus, Balistes echarpe
Indo-Pacific: Red Sea south to East London, South Africa and east through Indonesia to the Marquesan Islands, north to southern Japan, south to Lord Howe Island.
Difficult to visually sex.
Peaceful, but can be mischievously aggressive occasionally.
Omnivorous
Feed once or twice a day.
Reef tank
Is known to rearrange rockwork at times; be careful to make sure tank mates are appropriate for the fish
Unlike its close relative the Picasso Triggerfish, this fish has a black bar from the eye to the belly with a brown back, and a black wedge bordered by green lines at the tail.