Boesemani Rainbowfish (Melanotaenia boesemani)
From The Aquarium Wiki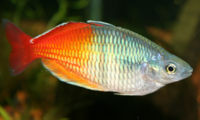 This animal is available captive bred
Additional names
Boesemani Rainbow fish, Boeseman's Rainbowfish, Bicolor Rainbowfish
Inhabits lakes which are situated at the headwaters of the Ajamaru River in Irian Jaya which drains into the Kais River eventually flowing to the Ceram Sea in Asia.
Females are slimmer than males with less vivid colouration.
Tank compatibility
[
edit
]
A peaceful community mid-swimming fish, will live with other similar sized peaceful fish. Keep in groups of 6 or more, more females than males. May well pose a threat to smaller invertebrates including snails.
Will accept most foods including pellet and flake food as long as the morsels are small. They will accept blanched vegetables and live/frozen food as well such as brine shrimp.
Feeding regime
[
edit
]
Feed once or twice a day.
Environment specifics
[
edit
]
They need plenty of open swimming space as they are quite active swimmers. A mature tank with tall plants and open swimming space in the centre without very bright lighting is ideal.
Behaviour
[
edit
]
An active peaceful shoaling fish.
Identification
[
edit
]
A slender high-backed fish with a pointed snout. They are attractively coloured, especially the males, their front half is blue and their back half is orange.
Pictures
[
edit
]
External links
[
edit
]