Odessa Barb (Pethia padamya)
From The Aquarium Wiki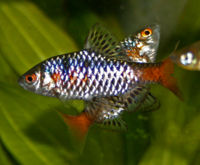 This animal is available captive bred
Additional names
Odessa Barb, Scarlet Barb
Additional scientific names
Puntius padamya
Asia: Myanmar. Known only from the type locality, an artificial pond in Toe Gyi village, situated just above the Anisakan Falls, near Pyin Oo Lwin, on the road Mandalay-Hsipaw, and from the lower Chindwin River.
Females are larger and stouter than males. See identification.
Tank compatibility
[
edit
]
Best not kept with long-finned, slow fish, for they may find flowing fins too interesting. Keep these fish in groups of 5 or more, more females than males.
They should accept pellet/flake foods as well as live/frozen foods such as brine shrimp and bloodworm. Generally very easy to feed.
Feeding regime
[
edit
]
Feed once or twice a day.
Environment specifics
[
edit
]
Keep these fish in a laterally spacious tank without very bright lighting. They would do well in a planted tank with a mix of open swimming space and tall planting/bogwood hiding places. They are more tolerant of lower temperatures than most tropical fish.
Behaviour
[
edit
]
Active shoaling fish, should be kept in groups of 5 and up, the more the better. A lively swimmer and generally non-aggressive towards other fish.
Identification
[
edit
]
Both males and females have two large black spots, one at the caudal peduncle, the other behind the head at the flank of the fish. Males have a red band running behind the head and extend until the edge of the middle portion of the tail fin. The dorsal and ventral fins are speckle with black dots and are edged in black. The caudal and pectoral fins are clear. Females do not have red markings and are brown/greyish green in colour. The females also lack most of the black dots shown on the dorsal and ventral fins.
Species Note
[
edit
]
This colourful barb first appeared in the fish markets near the port of Odessa, Ukraine around 1972.
No naturally occurring specimens of this barb were identified in nature when first introduced to the aquarists in the 1970s. It was speculated to be a hybrid of possibly Puntius ticto, Puntius cumingi, Puntius conchonius, Puntius stoliczkanus etc.
However, more recent specimens of new Puntius species such as Puntius didi, Puntius tiantian and Puntius meingangbii and in particular Puntius manipurensis suggest that Odessa barb may not be a hybrid after all. In October 2008 it was formally named as Puntius padamya.
Pictures
[
edit
]
External links
[
edit
]