Okavango Tilapia (Tilapia ruweti)
From The Aquarium Wiki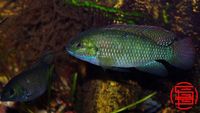 This animal is available captive bred
Additional names
Okavango Tilapia
Additional scientific names
Pelmatochromis ruweti
Swampy high plateaus of the Congo-Zambezi watershed, including the Lufira River. Also known from the Okavango delta. Reported from Zimbabwe.
Males are larger than females.
Feisty, but can be managed due to size.
Omnivorous
Feed once or twice a day.
Needs a mature tank with good filtration and hiding places.
Typical Cichlid and can be territorial. Colour will alter slightly depending on mood.
A small species of Tilapia. Oval in body with a rounded head and blunt nose.