Sparkling Gourami (Trichopsis pumilus)
From The Aquarium Wiki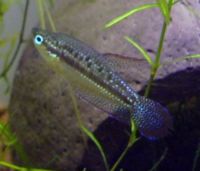 Additional names
Sparkling Gourami, Pygmy Gourami, Dwarf Croaking Gourami
Additional scientific names
Ctenops pumilus
It is difficult to sex these fish visually. Mature females may be slightly fuller in the belly than males.
Tank compatibility
[
edit
]
A peaceful fish. Stays at the top since it is a labyrinth fish, and gets its air from the surface. Males can be territorial during breeding season. Preferably keep one male per tank with several females.
An omnivore that will accept a wide range of food including flake, pellets, live/frozen, or freeze-dried.
Feeding regime
[
edit
]
Feed once or twice a day in small amounts.
Environment specifics
[
edit
]
Appreciates floating plants and places to hide. Can be sensitive to water quality issues, good filtration and a mature tank are essential.
Behaviour
[
edit
]
A peaceful fish that can be shy.
Identification
[
edit
]
This Gourami has an arrowhead shaped body with sparkling spots of assorted colours, a long anal fin and an almost cone shaped caudal fin.
Pictures
[
edit
]
External links
[
edit
]